If you live in southeast MA and are interested in purchasing any jams, granola, or biscuits, please contact me and we'll make it happen!
Jams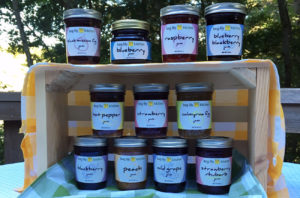 Bog Lily Kitchen has been making jam for over a decade, starting with just a few varieties to over a dozen small-batch jams to chose from.
Flavors available include: "best in show" peach, "blue ribbon" strawberry, strawberry rhubarb, rhubarb, blueberry, blackberry, blueberry blackberry, raspberry, black raspberry, black mission fig, pear ginger cardamom, apple pie, quince, cranberry, hot pepper, firebreather hot pepper, orange marmalade, and beach plum.
Most of the varieties are made with local and regional fruit: berries and rhubarb are from Coonamesset Farm (East Falmouth, MA) and apples, pears, and quince are from Rocky Brook Orchard (Middletown, RI).
$7 / 8 oz jar     $4 / 4 oz jar

---
Granola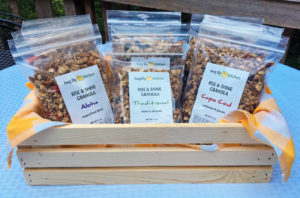 Granola has been made in Bog Lily Kitchen for fifteen years, starting with a basic recipe that's been well-tested to become to what it is today.
Mixes available include: traditional (raisins & almonds), cape cod (dried cranberries & pecans), aloha (tropical fruit & macadamia nuts), summer bounty (blueberries, cherries, strawberries & almonds), and fall harvest (apple, pear, pumpkin seeds & pecans).
Please note: all granola varieties contain wheat and tree nuts.
$6 / 14 oz bag
---
Buttermilk Biscuits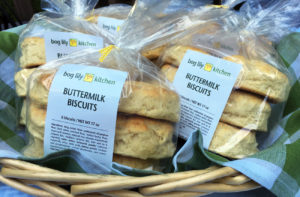 A perfect compliment to Bog Lily Kitchen jam! A good, basic recipe made with high quality ingredients, starting with King Arthur Flour.
$4 / half dozen (16 oz)